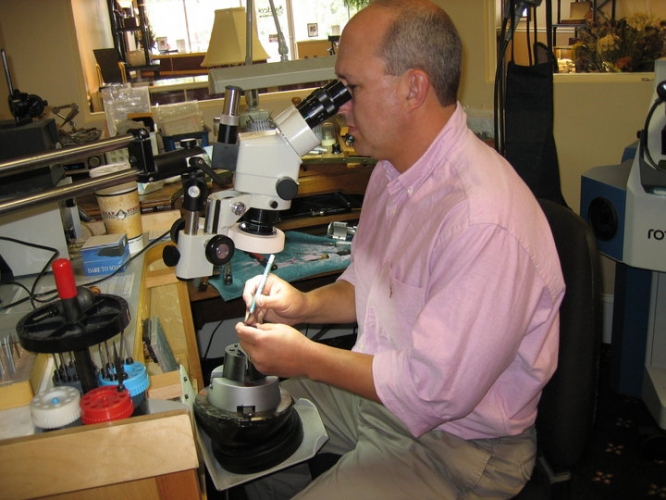 In the summer of 1982 Rick Sanders began his jewelry apprenticeship in a small jewelry shop in SE Gainesville, Florida. Now, a quarter of a century later, old world craftsmanship is a hallmark of Rick's designs. Hand engraving, milgraining, pave' setting and beadwork are just a few of the traditional techniques that Rick proudly features to ensure the highest quality possible while adding a dramatic vintage flair to his designs. Rick's skill and dedication to his craft has left him unequaled in this area and has made him highly sought after by discriminating clients all over the country.
Jewelers of America Press Release
Date September 18, 2008
FOR IMMEDIATE RELEASE CONTACT: Lauren Thompson
Jewelers of America
646-658-5817
lthompson@jewelers.org
Rick Sanders
Sanders Jewelers Inc.
352-331-6100
Gainesville Jeweler Earns Professional Recognition from National Trade Association
Rick Sanders, popular local jeweler, certified as JA Master Bench Jeweler
NEW YORK CITY - Jewelers of America (JA), the national trade association for retail jewelers, has awarded Rick Sanders, owner of Sanders Jewelers, in Gainesville, FL, the designation of JA Certified Master Bench Jeweler (CMBJ), the fourth and highest level of the JA Bench Jeweler Certification program. The JA Bench Jeweler Certification program sets uniform standards for testing and evaluating a bench jeweler's talent, ability and proficiency.
JA Certified Master Bench Jewelers are artisans who demonstrate jewelry creation and repair skills to the peak of professional proficiency. Sanders is only the third bench jeweler in Florida to ever receive this distinction; there are less than 130 CMBJ jewelers in the United States.
"Being a JA Certified Jewelry Professional is an important designation," says JA President and CEO Matthew Runci. "There is a fundamental difference between a JA Certified Jewelry Professional and someone who just happens to make, sell or repair jewelry. By completing the JA Master Bench Jeweler Certification exam, Rick has defined his proficiency as a master of his trade, which demonstrates he is expertly qualified to craft or repair fine jewelry and illustrates his commitment to providing superior service to customers."
A Gainesville local, Rick Sanders is well known in the community as the jeweler "who can make or repair most anything." His store, Sanders Jewelers, specializes in high-end custom designs and diamond sales. Sanders' 26 years of bench experience make him expert at jewelry repairs, and customers seek him out for intricate antique jewelry repair and restoration.
Sanders performs all design and repair work in-house at Sanders Jewelers – a unique feature in jewelry retail stores. "When a customer comes in, they get to talk to the jeweler that is going to be repairing or making their piece of jewelry. No matter what is needed their jewelry never leaves our store," he explains. Customers can even watch as Sanders works on their jewelry, since the high-tech Repair Center is visible from the showroom.
Prior to opening Sanders Jewelers in 2006 with his wife Melinda, Sanders worked for a retail jewelry and repair store in Gainesville for 20 years. During his career, he has completed multiple jewelry courses to continuously advance his bench jewelry skills. He has received certificates in Advanced Stone-Setting (Gemological Institute of America), Hand Engraving (GRS), and Casting.
Since opening his store, Sanders has used his custom-design talent to give back to his community, by donating custom jewelry to the Children's Home Society Puttin' On the Ritz gala auction in 2006 and 2007.
Sanders Jewelers is located inside Haile Plantation at 9119 SW 52nd Ave, Suite C-102, in Gainesville, FL. For additional information about JA Certified Master Bench Jeweler Rick Sanders, contact the store directly at 352-331-6100 or visit www.sandersjewelers.net. Sanders Jewelers is a member of Jewelers of America and the Florida Jewelers Association.
For information about JA and the JA Bench Jeweler Certification program, call 800-223- 0673 or visit www.jewelers.org.
Jewelers of America, Inc. is the national trade association for retail jewelers. With more than 11,000 members nationally, JA also works locally through its state and regional affiliates. JA advocates high social, ethical, and environmental standards, promotes professional business and leadership skills, and enhances its members' profitability by offering education, certification, marketing and cost-saving programs.
52 Vanderbilt Avenue • 19th Floor • New York, NY 10017
Tel: 646-658-0246 • Toll Free: 800-223-0673 • Fax: 646-658-0256
Website: www.jewelers.org • E-mail: info@jewelers.org