Custom Design
Custom Design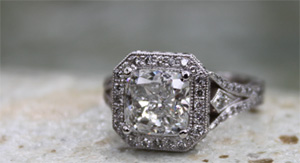 Rick Sanders, J.A. Certified Master Bench Jeweler, will most likely be working on a custom design when you step through our doors.

Rick's 30-year presence in the jewelry industry has earned him a wide and loyal following throughout the country. The personal attention and rewarding experience offered by Rick and our team is only part of the draw for individuals and couples seeking bespoke jewelry. Rick is one of only three certified Jewelers of America Master Jewelers in the state, making Gainesville a destination for commissioned fine jewelry.

We focus on ensuring each idea transforms into a creation that speaks to you. Rick discovers who you are, helping you define which emotions you want to capture in your own unique Sanders design. The staff is completely focused on assisting you in every part of the process, from the first moment of contact, through design, creation and onto every anniversary thereafter. The family feeling from Rick, Melinda and all of our employees is noticeably sincere and extended to each person that enters the shop.

In browsing the completed designs, you will only see some of Rick's skills. You can continue to read more about what is offered by this spectacular design center by exploring the "About" tab. Questions about how to get started, what to expect in your first consultation, as well as any other requests, can be made through the "Contact" page.