Meet the Team
Meet The Team
As a family owned business Sanders has been built from the ground up by Rick and his wife Melinda. They have created a business that values you as a person and as a friend rather than just another customer. They want everyone who walks in our doors to feel comfortable and special here. Since the beginning Rick and Melinda have hand picked each and every employee to carry on the family standard of warm welcomes and superior customer service. We as a staff have been expanding and thought it was time to give you a little insight to who we are and why we believe in what the Sanders have started here.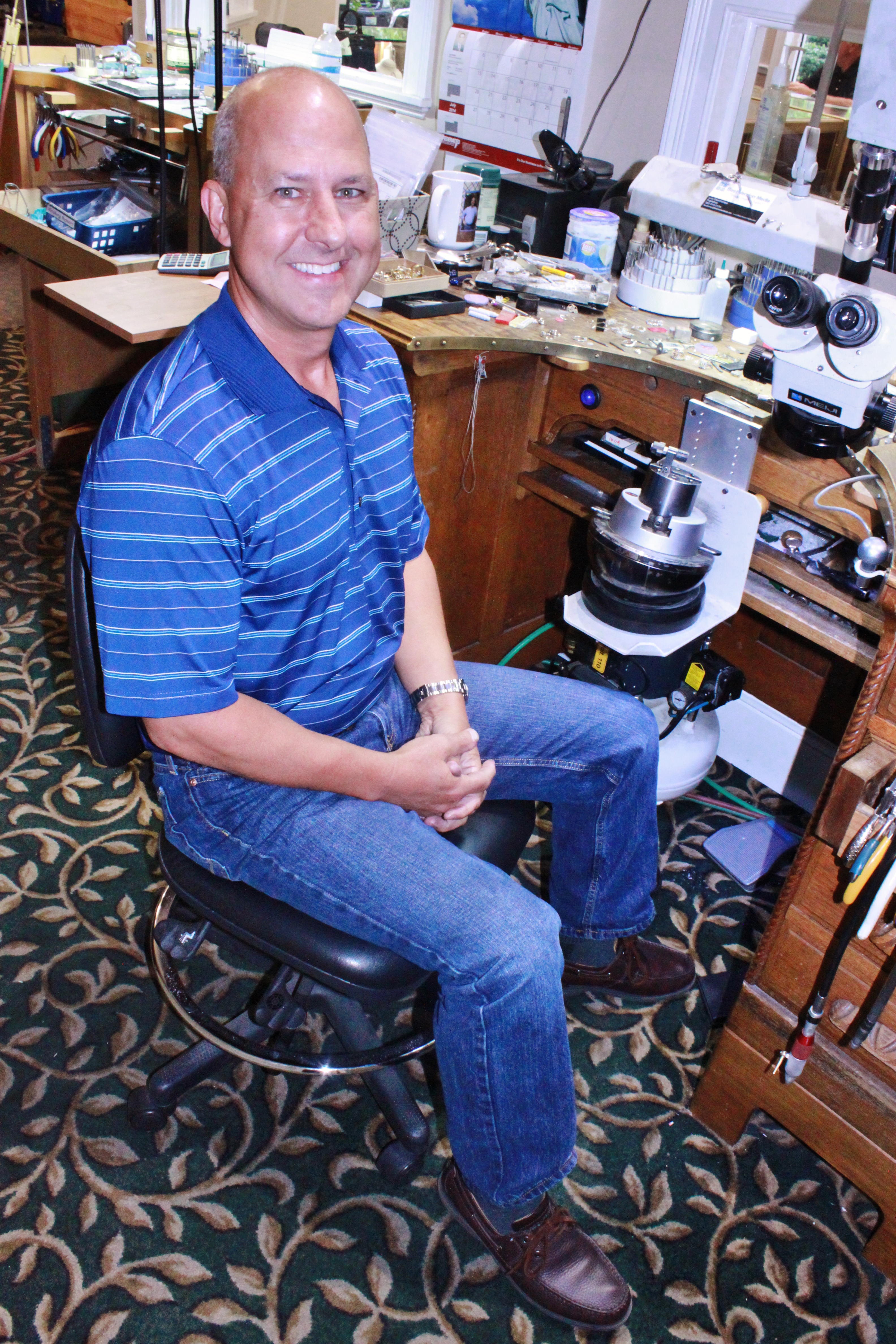 Rick Sanders – Founder/President/Master Bench Jeweler
Slightly more than 50 years ago, Gainesville gained a new resident in Rick Sanders. Little did North Florida know, the best jeweler in North Florida had been born! Growing up in Gainesville, Rick immediately jumped into the industry after finishing school. Apprenticing under a local bench jeweler, Rick began constructing the building blocks for a rugged foundation in jewelry repair. As years passed, and Rick demonstrated his obvious aptitude for repairing jewelry, he decided to put his skills to the test and actually create jewelry himself. In hindsight, this was a momentous decision in leading Rick to being the master craftsman he is today. Many jewelers are faced with this decision at some point in their career, but few decide to take the leap, and fewer still excel at jewelry fabrication. When Rick began making jewelry himself, technology was significantly different than it is today. In other words, Rick did everything by hand, as opposed to jewelers learning the trade nowadays who rely on computer assistance. This background gives Rick a tremendous depth of knowledge in terms of the fundamentals of jewelry repair and fabrication. Rick offers a rare opportunity to learn how a combination of old techniques and new technology can be blended to offer his clients the best of both worlds – and most importantly the highest quality craftsmanship around. Rick finds this gives him a leg up on other jewelers, because not only does he know the best way to get a job done but he knows why it's the best way to get a job done. The neat thing about Rick further distinguishing him among jewelers is his willingness to share the details of his craft. Many jewelers are rather secretive of their methods, and unwilling to share the nitty-gritty details of their processes. Rick, on the other hand, is incredibly transparent and happy to walk any client through his entire process.
After perfecting his craft in both repair and custom fabrication, Rick decided to put his talents to work for himself and became an entrepreneur. In 2004, Rick opened Sanders Jewelers with his beloved wife Melinda. The next milestone in Rick's accomplished career was becoming a Certified Master Bench Jeweler. Many jewelers tout the title of being a Master Jeweler, but few have actually earned the distinction as a Certified Master. To put it in perspective, Rick Sanders is one of three Certified Master Bench Jewelers in the entire state of Florida, and the only one from the Orlando area to South Carolina.
A family man and Gator fan, Rick and his wife have two sons, Andrew, a recent graduate of the University of Florida, and Ryan who is currently attending the University of Central Florida. Rick prides himself on treating everyone who walks in the store as family, and this approach to running a business has served him well. While Rick is an adventuresome guy who enjoys the beach, skiing, and trying new things, there is one line that will not be crossed – vegetables. And if you're ever giving Rick food, don't think you can get away with simply removing the offending vegetables without his knowledge. With taste buds as practiced as his jeweler's hands, he has the ability to detect even the slightest hint of the slimy green, offensive residue. Meat is Rick's preference. A patriot and devoted carnivore, it's no surprise Independence Day is among Rick's favorite holidays. It gives him a chance to demonstrate his elite barbequing skills. But don't expect stinky old gas grilled food – natural lump charcoal only.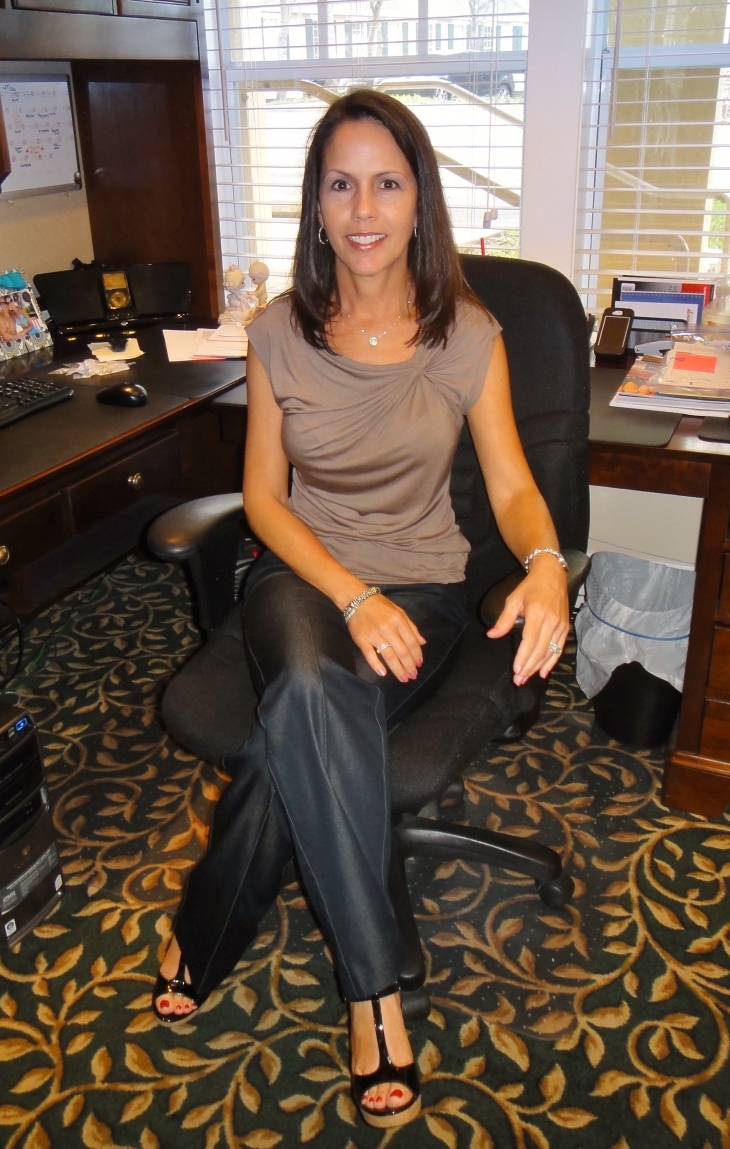 Melinda Sanders – Founder/President/Co-Founder/Co-Owner/Vice President/Office Manager
You often hear an organization's success largely depends on behind the scenes action. Nowhere is this truer than at Sanders Jewelers. Necessary and never ending, the work Melinda does behind the scenes is the glue holding Sanders Jewelers together. Melinda graduated from the University of Florida with a bachelor's degree in Business Administration and a major in marketing. She manages our office and maintains the balance of all of our accounts, finances and vendors. With such an unrelenting workload, Melinda's favorite way to take a break is to meet and greet clients who come into the store. An aspect of running the store that Melinda covets is the deep relationships she's built with clients over the years.
You'd never know it, but Melinda hasn't run jewelry stores all her life. After graduating from UF, she began a career in the insurance industry. As an adjuster, Melinda aided unrepresented clients in settling their claims. By doing this, she was able to nurture her passion for helping people. Consequently, when she was blessed with the opportunity to leave her insurance career to care for her two sons, Andrew and Ryan, the decision to become a full time mom was an easy one. Staying home and raising her two sons along with Rick was an exciting and fulfilling experience. One that she will cherish for the rest of her life. Six years went by, and Rick and Melinda decided to pursue their lifelong dream of entrepreneurship. Just like that, Sanders Jewelers was born. The perfect duo, Rick's jewelry expertise blended with Melinda's business background has propelled the store to success. One of Melinda's favorite management duties is traveling across the country with Rick to represent Sanders Jewelers at industry trade shows. At these national events, Melinda is afforded the opportunity to hand select new, one of a kind pieces for our clients. These shows also give Melinda the chance to network and thicken the rolodex, learning tricks of the trade from a variety of new people.
An incredibly strong woman, Melinda's only weakness is chocolate – a fact Rick likes to exploit! One of her favorite things to do is to spend time with her family. And if she can do it while vacationing in the Caribbean, sailing into the sunset on a catamaran while enjoying fruity drinks, even better. Melinda is truly an asset to Sanders Jewelers. We wouldn't know what to do without her.