We take pride in the practice of creating fine jewelry.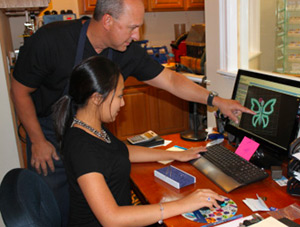 Here, you will see the progression of recent custom works that are unequalled in spirit and creativity as well as quality. This is also one more way the Sanders team can offer you an extensive education alongside the unique experience of custom design. Each part of development is completed in our shop by the proprietor and JA Certified Master Bench Jeweler: Rick Sanders.
Your initial design consultation will cover what you want the design to include, any questions you have, as well as a tour of our facility. Next, we will have you come in to view renders of the design you have created.
The final step in our process utilizes our milling machine, affectionately named Steve. We create a wax mold of the jewelry using exact dimensions, which allows you to view a model of the finished piece.