Fancy or Not?
Fancy or Not?
Posted on Wednesday, June 4th, 2014 at 3:39 pm by David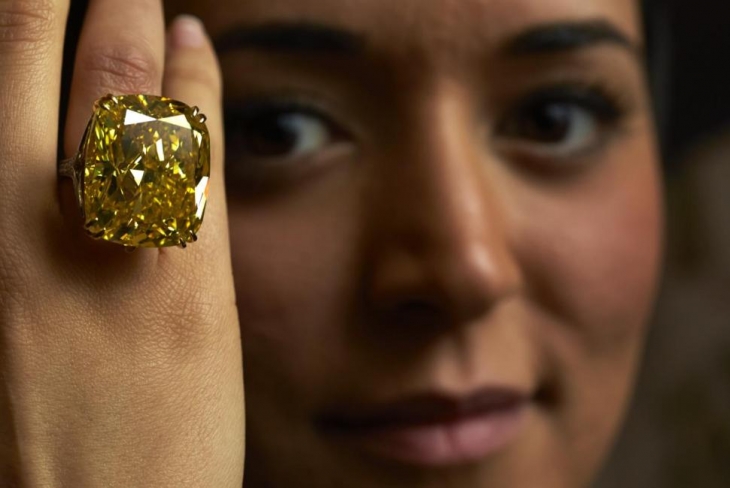 © DENIS BALIBOUSE / REUTERS/REUTERS
Recently, fancy diamond enthusiasts across the world have had plenty to talk about. Earlier this May, a record setting Graff yellow diamond shattered world records. Tipping the scales at 100.09 carats, this internally flawless vivid yellow diamond sold for $16.2 million - the most expensive yellow diamond in auction history. In a dramatic Geneva auction, the diamond initially did not get sold. After failing to meet the reserve, the diamond was removed from the auction floor. A private buyer immediately approached the chairman of Sotheby's (the auction house) and requested the diamond be put back on the floor. The second time the diamond crossed the auction floor, the private buyer took advantage of the opportunity and snapped up the diamond for $16,200,000. Come to find out, the buyer made an error converting dollars to francs when the diamond was initially put up. Upon resolution, the buyer was ready to purchase. As if one record breaking fancy diamond wasn't enough, the very next day another record setting diamond sold in Geneva by competing auction house Christie's. Christie's auctioned off the world's largest internally flawless fancy blue diamond for a whopping $24 million. Referred to as "The Blue," this diamond is 13.22 carats.
What this spring's record setting auctions indicate is the staggering increase in demand for fancy colored stones. Once viewed with skepticism, fancy colored diamonds are surging in popularity. Sharing all the amazing properties of white diamonds, fancy colored diamonds offer the opportunity to have a unique engagement ring, without having to pay for the tradition of a white or colorless stone. Additionally, fancy stones allow you to add color and character to your jewelry without having to sacrifice durability or brilliance. At Sanders Jewelers, we can procure a full range of fancy colored diamonds for any client – bridal or fashion. Stop by and let us help you get fancy!